About Our Lab
The Gait and Brain Lab is a research facility at Parkwood Institute, London, Ontario. We specialize in ageing-related research, specifically looking at the interaction between one's mobility and cognition as one ages. The Gait and Brain Lab's mission is to integrate "Mobility and Cognition" as a new line of research to better understand and treat the epidemic of insidious disability in older people.
---

Gait and Brain Seminar: Special Topic Presentation with Dr. Michele Callisaya
The Gait and Brain Lab welcomed Dr. Michelle Callisaya from the University of Tasmania (Australia) for a special topic presentation on Monday July 16, 2018. More details on this event can be found on our poster, here.
Save the date for the next installment of our annual seminar series: The 12th annual Gait and Brain Seminar will be hosted at Parkwood Institute, London ON on Tuesday October 16th, 2018 at 2PM.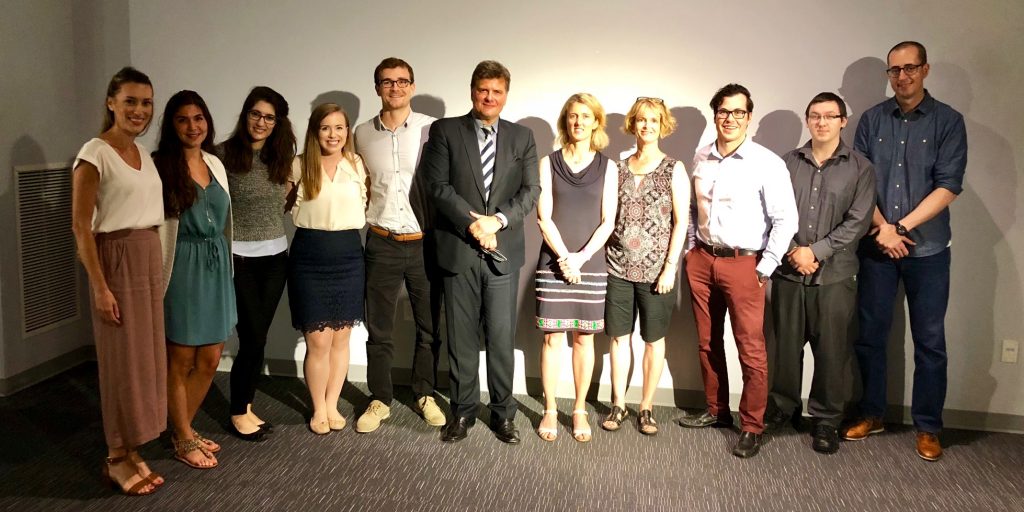 Left to Right: Alanna Black, Shay Nejim, Yanina Sarquis-Adamson, Stephanie Cullen, Josh Titus, Dr. Manuel Montero-Odasso, Dr. Michele Callisaya (guest speaker), Dr. Susan Muir-Hunter, Nick Bray, Korbin Blue, Dr. Frederico Faria.
Missing: Joel Mahon, Anish Naidu, Demian Kogutek and Hassan Haddad.
---

Congratulations to Dr. Montero-Odasso!
Dr. Montero-Odasso was awarded with the Dr. Joseph Gilbert Research Contribution of the Year award at the Lawson Impact Awards for his publication in JAMA Neurology titled "Association of dual-task gait with incident dementia in Mild Cognitive Impairment: Results from the Gait and Brain Study".
---
Research Opportunities
Do you have memory problems?
Do you have trouble remembering things?
Are you 65 years old or older?
Would you like to be part of a research study?
Interested older adults are invited to call to get information about participating in our research studies.
Our projects are looking at the relationship between walking and cognition (how you think and reason). If you have concerns about your memory, you are encouraged to call us and , if you meet certain criteria, you will be invited to take part in our research studies. You may then be invited to come to Parkwood Institute, part of St. Joseph's Health Care London, and undergo a thorough assessment by our  trained professionals. As a part of the study, you will have a complete memory and mobility evaluation, which can be sent to your family physician if you wish.
If you are interested, please contact us today! info@gaitandbrain.com
---